What Problems Can Home Care Services Help With?
Jun 18, 15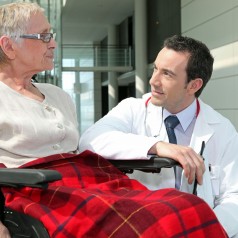 Our clients at Visiting Angels Kansas City require home care services for a variety of reasons. Some have problems with strength and mobility, making it tough to get dressed, prepare food, or bathe themselves. For others whose memory is slipping, having a caregiver around can make it easier to keep appointments and remember to take medications. In many cases, home care services are there to help out with all sorts of tasks – big and small, mental and physical – and that list of tasks may grow as care continues.
Our caregivers at Visiting Angels Kansas City bring broad skill sets, years of experience, and a personal touch to our clients' care. Here are some of the broader issues that Visiting Angels Kansas City caregivers can assist with through our home care services.
Physical Assistance
Aging, injury, or illness can cause the loss of strength and mobility, making everyday tasks difficult, painful, or impossible. Our caregivers are able to assist with or accomplish these tasks, which may include dressing, bathing, or preparing food, and can even be as simple as helping a person stand up or opening a jar.
Reminders and Guidance
For some clients, trouble with long or short term memory can make it hard to live their day to day lives. They might miss appointments, forget to pay bills, or fail to take vital medication. Our caregivers are able to help guide such clients through their day to day tasks through helpful reminders and friendly encouragement.
Wellness Monitoring
Some of Visiting Angels Kansas City's clients have pre-exiting conditions or are at risk for injury or illness. Through our home care services, we are able to provide monitoring and non-medical care in order to ensure their well-being.
Companionship
For many clients, growing older causes feelings of loneliness, despondency, or depression. Sometimes this can be caused by the loss of a loved one or friends. In other cases, it can be due to mental or physical changes the client is going through. In all cases, a caregiver will be able to provide companionship, support, and conversation to help ease these feelings.
Business Name caregivers also offer a wide range of specialty home care services, such as non-medical care for those with Alzheimer's, dementia, Parkinson's, cancer, diabetes, congestive heart failure, heart disease, COPD, and many other conditions.
To learn more about the ways our home care services can help, give our Kansas City office a call and speak with one of our staff.